Do you have new staff or current team that needs more knowledge when it comes to the world of beverages? Our Hospitality/Beverage Specialist Certificate (HBSC) can help!
The Hospitality/Beverage Specialist Certificate (HBSC) is an entry-level, beverage knowledge program (available in both English and Spanish) designed to fulfill the needs of the hospitality and culinary industries and their employees. The Beverage Specialist Certificate can also be used as an entry-level course for those planning to pursue higher levels of wine, beer, or spirits certification.
The HBSC provides a broad base of knowledge, covering all commercially relevant beverages, not just wine or spirits. The program's content covers: coffee, tea, beer, sake, cider, perry, wine, and spirits. Details about sensory evaluation, tasting notes, and service standards for each beverage type are included as well as a chapter on the responsible service of beverage alcohol.
The HBSC may be completed as an online self-paced, self-study program. We offer group pricing that includes access to the Online HBSC Course and an Online Exam. Please contact Ben Coffelt, Director of Sales, at bcoffelt@societyofwineeducators.org or by phone at 202.408.8777 ext. 113. An accompanying, 192-page paperback study guide second edition is available for individual purchase through Amazon at a separate fee. An ebook version of the HBSC Study Guide Second Edition is available on Amazon and on Apple Books.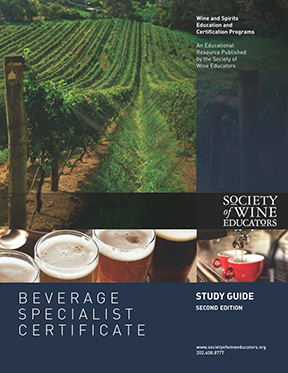 Successful completion of the Online HBSC Exam—accessible at the end of the Online Course—will earn candidates the Hospitality/Beverage Specialist Certificate. The exam is 80 multiple-choice questions. Passing the exam requires a score of 75% or higher. Unsuccessful candidates may attempt the exam a second time at no additional cost. Candidates receive a score upon completing their exam. The HBSC Certificate may be printed out by the candidate immediately after passing the final exam.
Candidates will have access to the Online Course and Exam for one year from the date of purchase. To sign up, visit our HBSC Course page.
The Hospitality/Beverage Specialist Certificate (HBSC) is available in Spanish. Click here to view in Spanish. To sign up, click here. An ebook study guide in Spanish is on Amazon.
The Society of Wine Educators owns the copyright in all exam materials and supplements referenced herein. Any redistribution or reproduction of part of all of the content is prohibited except as permitted by copyright law. You may not, except with the express permission of the Society of Wine Educators, distribute or commercially exploit the content. Nor may you transmit it or store it in any other website or other form of electronic retrieval system.