El Certificado de Especialista en Bebidas (HBSC, por sus siglas en inglés) de la Society of Wine Educators es un programa de nivel básico diseñado para estudiantes y profesionales en el campo de la hospitalidad y la gastronomía, así como para aquellos quienes planean obtener niveles más altos de certificación en vinos, cervezas o licores.
El HBSC provee una amplia base de conocimiento de producto en las bebidas comerciales más relevantes, incluyendo vinos, destilados, cerveza, sake, sidra, café y té. El Certificado de Especialista en Bebidas representa el reconocimiento de la Society of Wine Educators de que el titular ha adquirido conocimientos prácticos sobre diferentes bebidas y la industria de las bebidas, equivalente a un supervisor o gerente de primera línea.
El programa incluye detalles sobre evaluación sensorial, notas de cata y estándares de servicio para cada tipo de bebida, así como un capítulo sobre el servicio responsable de bebidas alcohólicas.
El Certificado de Especialista en Bebidas se ofrece como un programa de autoaprendizaje, a su propio ritmo. El monto de inscripción incluye el acceso al Curso Online del Certificado de Especialista en Bebidas por un año, así como el acceso al examen final en línea. La segunda edición de la Guía de Estudio del Certificado de Especialista en Bebidas está disponible en Amazon Kindle (ebook).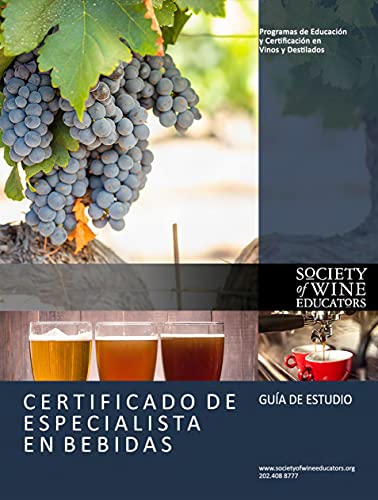 La finalización exitosa del examen -accesible al final del Curso en Línea- hará que los candidatos obtengan el Certificado de Especialista en Bebidas. El examen final consiste en 80 preguntas de selección múltiple; se requiere de una puntuación mínima de 75% (equivalente a 60 respuestas correctas) para pasar.
Los candidatos que no tengan éxito, pueden intentar el examen por segunda vez sin costo adicional. Los candidatos reciben la puntuación al completar su examen. El certificado del HBSC puede ser impreso por el candidato inmediatamente después de aprobar el examen final.
Los candidatos tendrán acceso al curso y examen en línea durante un año a partir de la fecha de compra. Para inscribirse, debe visitar la página Web del Curso HBSC (edición en Español).
La Society of Wine Educators es propietaria de los derechos de autor de todos los materiales y suplementos del examen a los que se hace referencia en este documento. Cualquier redistribución o reproducción de una parte o de todo el contenido está prohibida, excepto lo permitido por la ley de derechos de autor. No puede, excepto con el permiso expreso de la Society of Wine Educators, distribuir o explotar comercialmente el contenido. Tampoco debe transmitirlo o almacenarlo en ningún otro sitio web u otra forma de sistema de recuperación electrónica.